Hurleys Waste Management, established since 1984, is a second-generation skip hire and waste management business with over 30 years of industry knowledge and experience ensuring the highest standard of services.
Offering a range of skips for hire in Barnet, Enfield, Potters Bar, North London and Hertfordshire. All waste is transported to our Waste Transfer Station for sorting and recycling.
If your Company has its own Waste Carriers' Licence, we welcome you to our Transfer Station to dispose of your unwanted waste.
To obtain a licence, visit the Government portal for Waste Carriers.
Our experienced and friendly staff are always on hand to offer help and advise with all your waste disposal needs.   
We are constantly reviewing our processes to keep in line with current environmental regulations and legislation surrounding the handling of your waste. As we are fully licensed with the Environment Agency as a waste transfer station and waste carrier, you can rest assured that all waste is dealt with safely and responsibly following the waste hierarchy: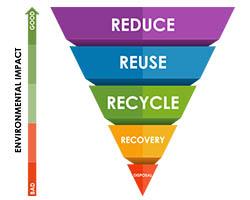 Hurleys Waste Management hold a Certificate of Registration under the Waste (England and Wales) Regulations 2011 which you can view here. You can also view our licence for our Waste Transfer Station here.